Hangers: Simpson Strong-Tie Dual-Purpose AHEP Connector for Wood and Cold-Formed-Steel Truss Applications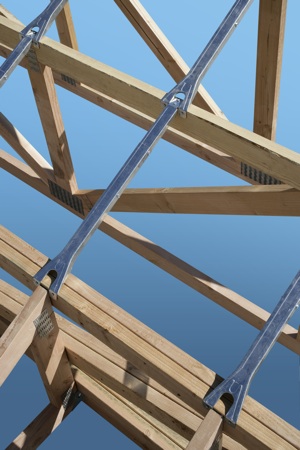 Simpson Strong-Tie introduces the AHEP (adjustable hip-end purlin) connector for wood and cold-formed-steel (CFS) truss applications. Designed for step-down, hip trusses, the AHEP can be used as a lateral restraint to safely space and support the flat section of the top chord. In addition, the AHEP can be used as a structural purlin for attaching sheathing or decking.
As a structural purlin, the AHEP lines up with the end jack trusses to maintain framing spacing from eave to hip or peak. Roof sheathing or decking can be attached directly to the AHEP. As a lateral restraint, the AHEP saves time by eliminating the steps needed to install and possibly remove and dispose of other fill-in framing during installation.
For example, in wood step-down hip trusses, the restraint attaches at the leading edge, so there's no need for dropped top chords and gable fillers. In CFS applications, the AHEP attaches similarly and saves the time and expense of cutting and installing C-stud fillers.
The AHEP is designed with an inner and outer tube, so it can be adjusted to the desired pitch or length and then fastened together with four #10 self-drilling tapping screws. The parts are installed with 10d nails for wood trusses or #10 self-drilling screws for CFS applications. The AHEP can accommodate a pitch range of 3/12 to 9/12 as a structural purlin and up to 12/12 as an installation spacer/lateral restraint.
"Up until now, no single product on the market could streamline step-down hip framing and provide additional structural integrity for lateral spacing restraints," said Stan Sias, Simpson Strong-Tie national manager for the Plated Truss Industry. "In addition to saving time by eliminating gables or C-stud fillers during installation, the AHEP eliminates the need to attach twist clips and requires fewer nails or screws. By using the AHEP to serve as the framing purlin from the eave to the hip or ridge, installers also don't have to cut and shift sheathing as they go."
New Online Calculator for AHEP Installation
A new Web-based calculator is available that allows designers to input such values as, roof pitch, live and dead loads, deflection, and truss spacing, to help with AHEP specification and installation. To view the calculator, visit www.strongtie.com/webapps/ahep.