Hangers: Simpson DBC Drywall Bridging Connector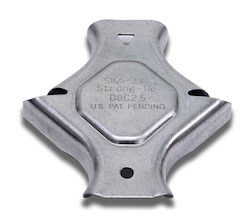 The DBC drywall bridging connector is the latest innovation for cold-formed steel construction from Simpson Strong-Tie. The patent-pending design of the new DBC connector enables one- or two-screw installation, significantly reducing labor and material costs.
The DBC is the first and only connector load-rated for smaller 3/4-inch U-channel bridging. Along with the Simpson Strong-Tie SUBH and MSUBH bridging connectors, the DBC has been extensively lab-tested as a system, ensuring that tabulated design values reflect stud web depth and thickness. The connector has been tested in accordance with ICC-ES AC261.
Designed to fit smaller web knockouts common to drywall studs, the DBC connector is compatible with conventional and proprietary drywall studs ranging from 15-33 mil thickness, and with stud depths of 3 5/8" and 6."