Simpson Strong-Tie H1.81Z Hurricane Tie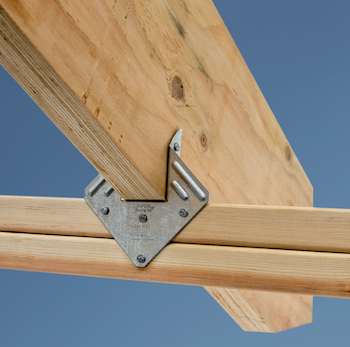 Simpson Strong-Tie has introduced the new H1.81Z hurricane tie, designed to provide stronger connections between heavy engineered wood rafters and wall top plates.
Developed and tested to provide lateral resistance during seismic events, the H1.81Z is also ideal for roofs with heavy snow loads or connections where there are higher load demands on the structure.
The H1.81Z provides homebuilders, roofing contractors and remodelers a cost-effective solution for transferring loads from heavier laminated veneer lumber (LVL) roof systems and roofs subjected to higher snow loads.
"The H1.81Z connector is the first hurricane tie to be specifically sized for engineered wood," said Sam Hensen, vice president of connectors and lateral systems for Simpson Strong-Tie. "It offers a higher lateral allowable load, which means greater strength and design flexibility for builders dealing with heavier roof systems or with increased snowstorm frequency and severity."
The code-listed 1¾"-wide H1.81Z connector also installs with half the number of nails that would be needed for two single-sided twist straps, and it features a ZMAX zinc finish to increase resistance to corrosion. Additional features of the H1.81Z include the following:
Wider seat to fit 1¾" LVL rafters
Ability to connect both side faces of the joist for better support
Connector embossments to provide stiffness in crucial areas for improved performance
Fastener holes sized to fit popular 0.148" x 1½" connector nails
Flanges that can be installed facing inward or outward
Adaptability — installation on either the outside or the inside of the wall is acceptable according to all LVL manufacturers' installation instructions
For more information about the H1.81Z hurricane tie, including spacing tables and design schematics, visit the product page