Simpson Strong-Tie Brick Tie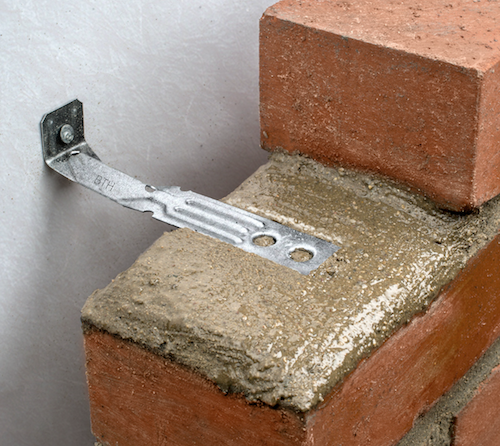 Simpson Strong-Tie, the leader in engineered structural connectors and building solutions, introduces the new, high-performance BTH brick tie, a first-of-its kind, cost-effective product capable of connecting brick and stone veneers to light-frame construction across spans up to three inches, offering contractors and homebuilders an innovative solution to meet ever-increasing spacing requirements.
Masonry veneer, often consisting of full-dimensional brick and stone, is used widely for exterior cladding, facades, foundation facings and chimneys.
"As homebuilders continue to use stone and brick veneers, they need wider airspaces between the veneer and wood framing to accommodate the thickness in materials and allow for adequate drying of moisture, especially in mixed humid climates," says Sam Hensen, vice president of connectors and lateral systems for Simpson Strong-Tie. "Contractors have consequently been asking for a structural product that can provide enough strength to cross up to a three-inch airspace between the veneer and light-frame construction, and we've responded with the BTH brick tie innovation."
Fabricated from 22-gauge galvanized steel, the BTH brick tie is field-adjustable in two places and can be installed with either side facing up, providing strength and versatility across varied jobsite conditions and offering labor-stressed contractors a fast and simple solution.
Additional BTH brick tie features and benefits include the following:
Embossments for added strength when connecting wood framing and veneer across wider airspaces
Tie ends embed in the mortar a minimum of 1 ½" and connect to the framing with a single 0.131" x 2½" nail
Dual field-bendable zones allow for easy adjustment to airspaces within the 2"–3" range
For more information about the BTH high-performance brick tie, including spacing tables and design schematics, visit strongtie.com/bth.