Simpson MPBZ Moment Post Base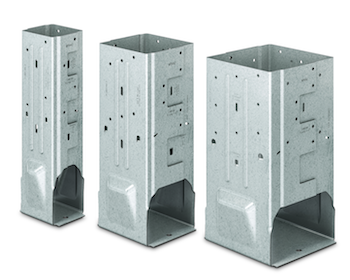 The innovative MPBZ moment post base by Simpson Strong-Tie is the first product in the industry to receive an ICC-ES code listing for moment resistance.
The MPBZ, which is the first off-the-shelf product to provide moment resistance for wood columns or posts, is now code listed under ICC-ES ESR-3050 for its 4x4 and 6x6 sizes. The MPB44Z and MPB66Z are also code listed for uplift, download and lateral resistance.
"We are very excited to be setting a new standard in the industry for moment-resisting post bases. We received many requests over the years for a product like this, so it was a high-priority project for our engineers to solve. Our team had to not only design the part, but also figure out how to properly test for moment resistance," said Sam Hensen, vice president for Connectors and Lateral Systems at Simpson Strong-Tie. "The MPBZ is a game-changer for Designers whose clients — both residential and commercial — want outdoor structures with little to no bracing. And the full code listing gives them the confidence to specify it."
The patent-pending MPBZ is ideal for freestanding outdoor structures, such as pergolas, patios, carports and decks. It features an innovative, overlapping sleeve design, which completely encapsulates the post, keeping it from rotating around its base when lateral loads are applied at the top of the post.
Built-in standoff tabs provide the required 1" standoff to protect against post rot while eliminating multiple parts and assembly. In addition, the MPBZ has a ZMAX finish to provide corrosion resistance in many environments.
The MPBZ's ability to withstand lateral loads greatly reduces or eliminates the need for additional bracing. The post base is engineered and tested to save engineers, architects and contractors the time and expense involved in designing, calculating and ordering custom-fabricated parts. In addition to the 4x4 and 6x6 sizes, the MPBZ is also available for 8x8 posts.
For more information, visit strongtie.com/mpbz.