Simpson Strong-Tie Improved FX-70 System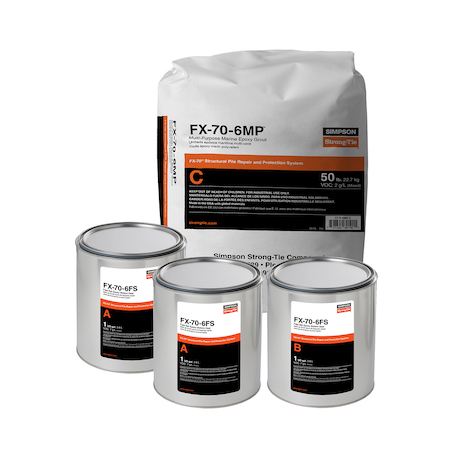 Simpson Strong-Tie, the leader in engineered structural connectors and building solutions, has introduced the FX-70-6FS fast-set epoxy bottom seal, a three-component, moisture-tolerant epoxy grout designed as part of the FX-70 structural repair and protection system to facilitate same-day filling of underwater fiberglass pile jackets.
The FX-70 structural piling repair and protection system was the first in-place repair solution for damaged concrete, steel, and wood piles when it debuted in 1970.
By eliminating the need to build cofferdams or otherwise remove water from project areas, the FX-70 system drastically reduces costs while enabling piers, docks, and other harbor structures to remain in service as pile repairs are executed.
With set times as fast as two hours, the new FX-70-6FS fast-set epoxy establishes a bottom seal that can support same-day jacket filling, providing marine construction professionals with a repair solution to enhance speed and project efficiency. The high-strength, water-insensitive epoxy bonds well to concrete, timber, and steel pilings and works seamlessly within the FX-70 system to help protect repaired piles from future corrosion, deterioration, or erosion.
According to the US National Oceanic and Atmospheric Administration, the global sea level has been rising over the past century, and the rate has increased in recent decades. In the United States, almost 40 percent of the population lives in high-population-density coastal areas where sea level plays a role in flooding, shoreline erosion, and hazards from storms. The FX-70 structural repair and protection system provides marine construction professionals with a fast, flexible solution for safeguarding the piling infrastructure that supports roads, bridges, and piers in the harbor and coastal areas at highest risk.
"Upgrading the FX-70 system with the FX-70-6FS fast-set epoxy will enable marine contractors to establish a bottom seal and fill pile jackets in the same day, rather than having to wait overnight for epoxies to set," says Simpson Strong-Tie product manager Brian Foster. "As repair and protection of marine structures become more critical, the availability of time- and money-saving underwater solutions enabling contractors to avoid having to dewater project areas or sustain delays provides a much-needed advancement to the industry."
Features and benefits of the new FX-70-6FS fast-set epoxy include:
Fast-setting epoxy formulation allowing same-day jacket filling
Easily poured into FRP jackets
Water insensitivity to eliminate need for costly and time-consuming dewatering of project areas
Freeze-thaw resistant for enhanced protection from temperature fluctuations
A high-strength, low-absorption formula for superior bonding to underwater surfaces
For more information on the FX-70-6FS fast-set epoxy, including Technical Data Sheets and case studies of the FX-70 structural repair and protection system at work, visit strongtie.com/FX-70-6FS.