TYPAR Surround VR Underlayment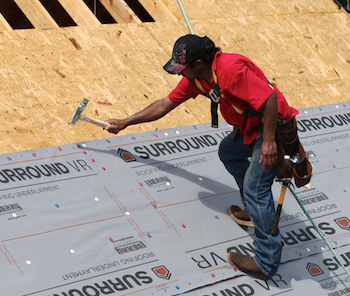 Due to contractor demand, the makers of the popular TYPAR Weather Protection System, recently launched Surround VR Underlayment-the next generation of high-performance, cost-effective synthetic roofing underlayments.
Designed with the installer in mind, Surround VR Underlayment reduces the amount and weight of material needed for roofing jobs. In fact, one roll of Surround VR covers the same area as five rolls of 30# felt, yet weighs seven times less and is 10 times stronger.
The highly versatile product is waterproof and was developed to work in nearly any roofing application, including with shingles, shakes, tile, slate or metal roofs.
"With our new Surround VR Underlayment installers will make fewer and easier trips up and down the ladder while experiencing faster installs, all while providing a more durable roofing system to their customers," said Jorge Martinez, Sr. Director of Product Marketing, TYPAR brand. "Surround VR gives contactors a budget-friendly option to deliver their customers a peace of mind they never could with 30# felt."
Made from a waterproof, synthetic polymer material, Surround VR Underlayment provides an optimal balance of high performance, enhanced safety and streamlined installation. It is engineered to repel moisture and will neither warp nor buckle when wet, thus helping to maximize the life of the roof system. Surround VR is also slip resistant on dry surfaces and provides better traction than 30# felt and synthetic competitors when wet.
The underlayment maintains its integrity year-round performing well in temperatures ranging from -40 degrees to 240 degrees Fahrenheit (-40 degrees to 115 degrees Celsius). In cold temperatures, the material will not crack or wrinkle, which helps ensure smooth installs. In warm temperatures, its heat-reflecting, gray-colored surface reduces the amount of heat buildup on the roof. Surround VR is also proven to withstand up to six months exposure to UV light, while its inherent strength can withstand high winds and storms, even those experienced by coastal regions.
Surround VR Underlayment is backed by a 15-year product replacement warranty and is ideal for residential and commercial applications. For more information on Surround VR Underlayment, please visit www.typar.com or call 800-284-2780.