Bosch GLL 55 Red and GLL 100 G Green Beam Lasers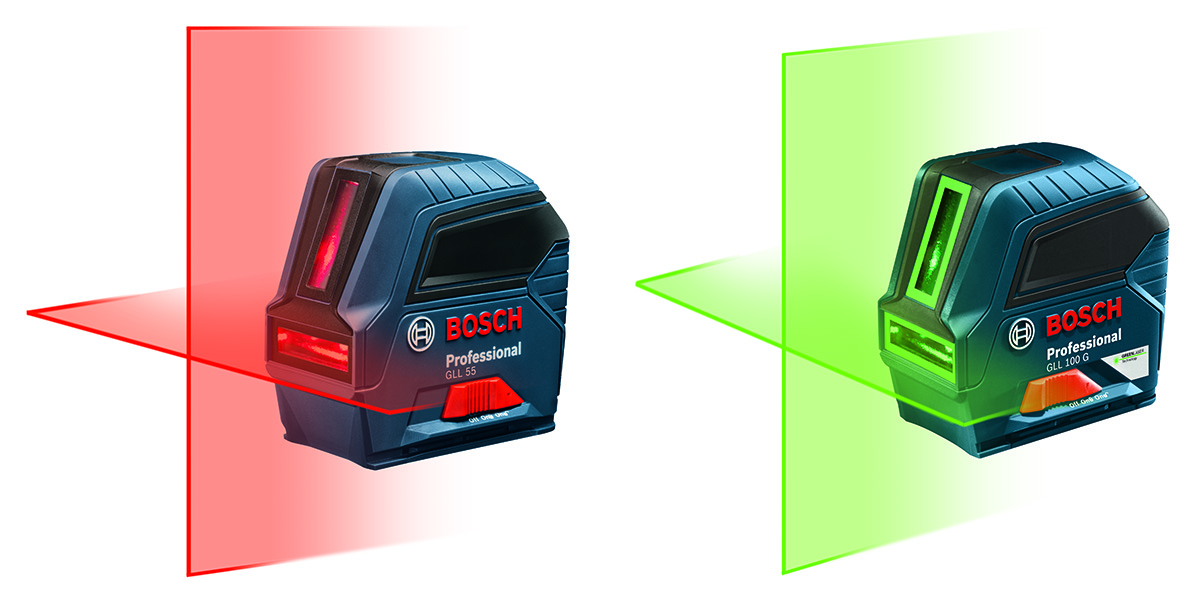 When the job requires a laser level, the more visibility the product provides the better. And that's why Bosch is introducing the next generation of laser levels with the GLL 55 and GLL 100 G Self-Leveling Cross-Line Lasers. The GLL 55 is a red line laser that provides a razor-sharp line that's visible up to 50 Ft.; the GLL 100 G green line laser is visible up to 100 Ft. Each projects vertical, horizontal and cross lines, independently or together, to deliver maximum versatility for any application.
Bosch GLL 55 and GLL 100 G Self-Leveling Cross-Line Lasers feature exclusive VisiMax technology, which delivers maximum beam brightness in varied jobsite conditions. These lasers deliver highly visible lines while protecting the laser diodes from overheating. VisiMax constantly monitors the laser's temperature so the diodes are always driven to deliver the best line visibility while preserving the life of the tool.
The Bosch GLL 55 delivers standard red beam while the Bosch GLL 100 G offers a green-beam laser line, which is up to 4x brighter in standard working conditions.
"These two lasers combine to offer users a full array of distinctive features," said Tony Kang, product manager, line lasers, Robert Bosch Tool Corporation. "Professional users are looking for a line laser that covers all of the applications. The GLL 55 and GLL 100 G do that in standard red beam or high-visibility green beam. Our goal is to give users a choice that fits their specific needs."
These professional cross-line lasers include conventional vertical, horizontal and cross-line modes, which can project two lines independently or together. And each has a manual mode that allows the user to lock the cross-line, allowing use of the tool at any angle. The tool provides a long vertical laser line that extends line visibility to a nearly 360° vertical plane when placed next to a wall. In addition, the easy-to-use keypad makes choosing the right mode among layout options simple.
Bosch GLL 55 and GLL 100 G Self-Leveling Cross-Line Lasers feature the locking Smart Pendulum System, which ensures accuracy, reliability and durability. The system self-levels and indicates out-of-level conditions, giving the operator added confidence in the accuracy of the measurements. For secure transport, the system locks the pendulum when it's switched off.
These laser devices are constructed to withstand harsh jobsite conditions thanks to sturdy over-molded construction built to an IP54 rating for water and dust protection. The set includes a magnetic L-mount base with standard threading of 5/8 In.-11 and 1/4 In.-20 for use on a tripod. The mount also attaches to metal surfaces, such as steel studs. And it has retractable feet that allow the laser to be used as a freestanding device. Each laser includes a hard-shell carrying case for secure transport.
To learn more about the Bosch GLL 55 and GLL 100 G Self-Leveling Cross-Line Lasers or to find a local dealer, visit www.boschtools.com or call 877-BOSCH-99. Check out www.bethepro.com for additional tips and videos.
Bosch GLL 55 and GLL 100 G Self-Leveling Cross-Line Lasers Fact Box