Snap-on Ratcheting Wrenches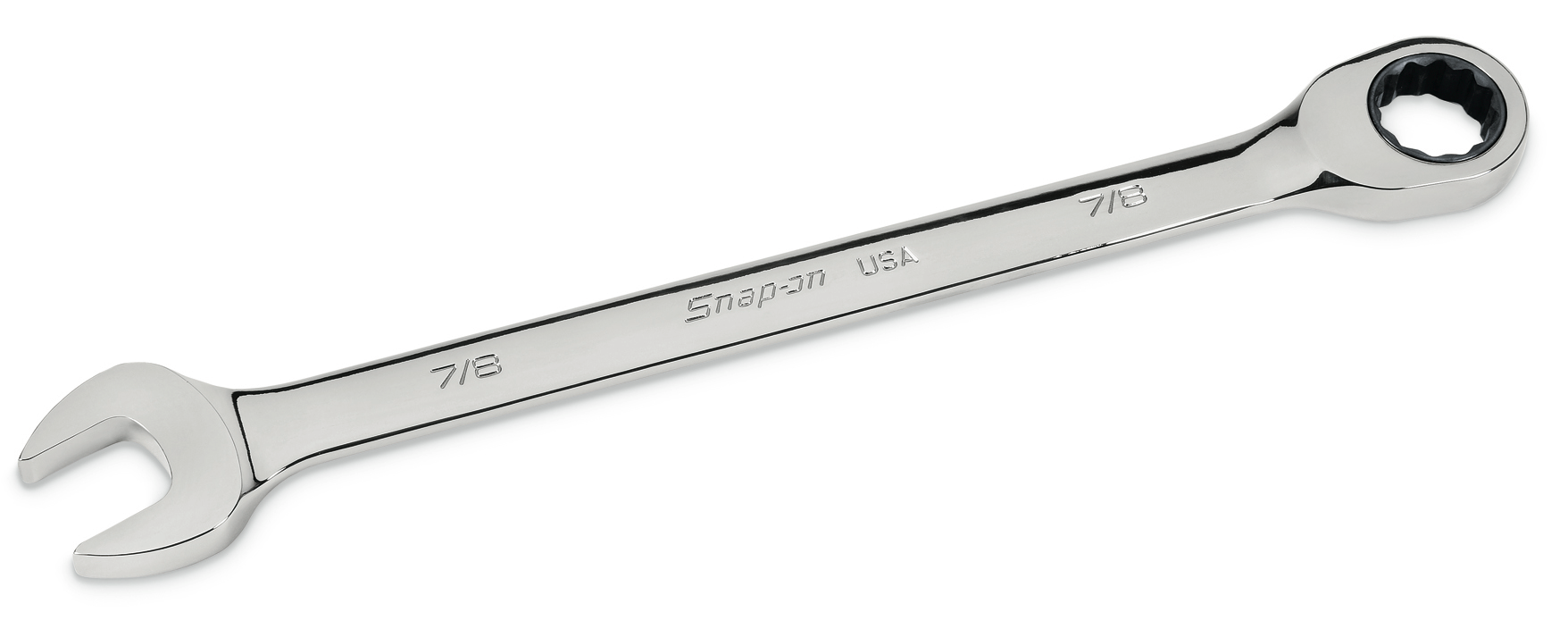 The new Ratcheting Wrenches from Snap-on Industrial feature a stronger, more durable design that delivers up to 20 percent more ultimate torque and 95 percent additional cycle life.
These non-reversible ratcheting wrenches are engineered with a 0° offset, uni-directional design to deliver more power in less lateral space, helping to access and remove the most stubborn fasteners in tight spaces.
Features and benefits of the new Ratcheting Wrenches (SAE & Metric sizes) include:
• 80-tooth ratcheting gear minimizes swing arc needed to move fasteners in restricted spaces
• Flank Drive® wrenching system on box-end generates up to 15-20 percent more turning power, while minimizing risk of tool or fastener damage
• Manufactured from special alloy steel, precision-forged and heat-treated for optimum strength and durability
• The ratcheting gears are cold-formed utilizing the same proprietary blend of steel that is used in Snap-on sockets
Part Number OXRM703 includes:
• 21mm (OXRM21)
• 22mm (OXRM22)
• 24mm (OXRM24)
Part Number OXRM710 includes:
• 10mm (OXRM10)
• 11MM (OXRM11)
• 12MM (OXRM12)
• 13MM (OXRM13)
• 14MM (OXRM14)
• 15MM (OXRM15)
• 16MM (OXRM16)
• 17MM (OXRM17)
• 18MM (OXRM18)
• 19MM (OXRM19)
Part Number OXR704 includes:
• 13/16" (OXR26)
• 7/8" (OXR28)
• 15/16" (OXR30)
• 1" (OXR32)
Part Number OXR707 includes:
• 3/8" (OXR12)
• 7/16" (OXR14)
• 1/2" (OXR16)
• 9/16" (OXR18)
• 5/8" (OXR20)
• 11/16" (OXR22)
• ¾" (OXR24)
For more information on the new Ratcheting Wrenches from Snap-on Industrial, call 800.466.7404 or visit www1.snapon.com/industrial.