Snap-on Industrial Pliers Wrenches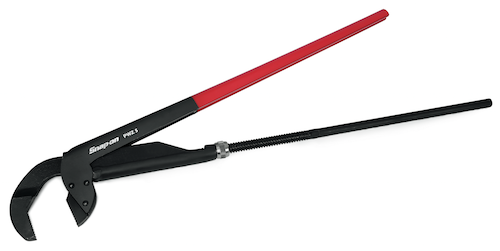 Snap-on Industrial has launched six new Pliers Wrenches, including its largest model measuring in at 41-3/4" – all of which features better overall performance and less slippage than traditional pipe wrenches.
The new pliers wrenches comes in six different sizes, ranging from 8-3/16" to 41-3/4", and are ideal for numerous industries, including railroad, oil and natural gas, manufacturing and others. Specific applications for the new wrenches include servicing tie rods, fleets and other heavy duty work where accessibility can be an issue.
Features and benefits of the new Pliers Wrenches include:
Inwardly angled teeth (fine teeth at back of jaws, larger teeth at front) for a stronger, more secure grip on objects of different sizes
Quick adjustment of grip width
Built-in guard against unthreading
Built-in protection on inner handle to protect against pinching
Wrenches can easily be locked into the desired position with the adjusting nut
Jaw grip increases when pressure is put on the handle
Narrow jaws give perfect accessibility, also in cramped corners
Six sizes of Pliers Wrenches available include:
Stock Number PWZ0: 8-3/16" length; 1 pound
Stock Number PWZ1:12-5/8" length; 1 5/8 pounds
Stock Number PWZ2: 17" length; 2-1/2 pounds
Stock Number PWZ3: 12-1/2" length; 6-3/8 pounds
Stock Number PWZ4: 28-5/8" length; 12 pounds
Stock Number PWZ5: 41-3/4" length; 17 pounds
For more information on the new Pliers Wrenches from Snap-on Industrial, call 800.466.7404 or visit www1.snapon.com/industrial.