Threaded Fasteners: Starborn Deckfast Metal Fasteners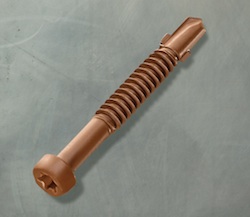 The Deckfast Metal fastening system from Starborn Industries has been officially approved by Wahoo Decks and Wahoo Docks for use with Wahoo aluminum floating boat dock and deck products.
Developed to accommodate the requirements of the fast-growing steel joist deck framing system marketplace, Deckfast Metal was tested on Wahoo aluminum joist systems at their corporate facilities, and now stands as the only fastener recommended for use with Wahoo Decks DryJoist and DryJoistEZ systems as well as Wahoo docks and gangways.
Deckfast Metal features triple strength corrosion resistance: grade 410 stainless steel + zinc plate + epoxy coating. 410 stainless steel is hard enough to easily penetrate Wahoo aluminum profiles, while also providing a high-level of corrosion resistance. The epoxy coating, in addition to protecting the fastener, is available in colors to match popular decking products, including Trex, AZEK Deck, TimberTech, Evergrain and others. The fastener's specially engineered head is designed to cleanly penetrate the hard outer layer of capstock decking products and also self-countersink into Ipe and other hardwoods.
Deckfast Metal fasteners are available loose as well as collated for use with the Muro Auto Feed Screw Driving system, the system preferred by professionals for both its speed and ease of use.