Drill Bits: Bosch Speed-X concrete bits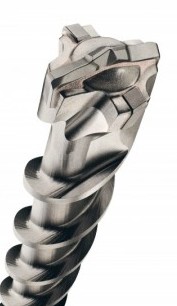 Bosch's game-changing Speed-X Hammer Carbide, as the name would suggest, is all about fast concrete drilling. Compared to the leading competitor, Speed-X drills up to 20 percent faster in concrete. Holes start precisely, thanks to the centric carbide tip, and begin quickly as the innovative inclined side cutters power their way into concrete.
As holes progress, the Speed-X really begins to shine. By utilizing a shortened head design and enlarged dust-clearing channels, Speed-X actually performs better as holes get deeper. In side-by-side testing versus the leading competitor, the speed difference in deep drilling applications is visible and noteworthy.
In addition to significant increases in speed, Bosch engineered Speed-X to deliver the outstanding performance and long-term durability users have grown to expect from all Bosch hammer carbide products. Vacuum optimized brazing and heat treatment of the precision carbide tip provides excellent resistance to impact and thermal stresses and contributes to an 18 percent increase in lifetime.
The same shortened head and inclined cutting slots responsible for increased drilling speed also enhance durability by providing fast dust removal and reducing friction. The expanded flutes further reduce friction as holes get deeper by clearing debris and enabling Speed-X to drill efficiently in deep applications. The precision engineered flutes also reduce vibration in deep drilling.
For precision anchoring applications, Bosch has moved the wear mark to the tip of Speed-X. Unlike previous hammer carbide that employed wear marks on the flutes, Speed-X alerts users when the carbide tip is worn and will no longer deliver precision anchoring at the start of drilling. The feature was first introduced on Bosch's acclaimed X5L Hammer Carbide and was praised by users who quickly realized imprecise hole placement was the most significant problem associated with worn hammer carbide.
The Bosch Speed-X will first be available (in limited distribution) in both SDS-Max and splined versions and in a variety of popular sizes beginning this June. Speed-X will be available through authorized dealers nationwide by fall 2010.
To find out more, visit www.boschtools.com or call 877-BOSCH-99.
---