Monster Pressure Washer Hose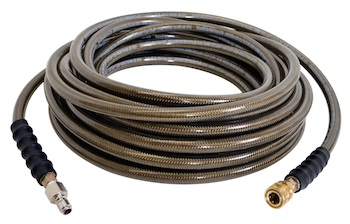 Monster Pressure Washer hoses are made with a dual-braided construction of steel over polyester and jacketed with translucent polyurethane for high strength, durability, and kink resistance. Monster hose is equipped with quick connect fittings for quick and easy setup 3/8 inch male QC plug x 3/8 inch female QC socket.
Its translucent polyurethane outer jacket is Non-marking, abrasion resistant, wipes clean with one pass and is designed to fit most gas pressure washers with standard quick connections. Best of all it is made in the heartland of the USA.
Chose between 4,500-psi rated standard size 50-foot assemblies or, for jobs that require longer reach, go with 100-, 150- or 200-foot versions.
The abrasion resistant outer jacket withstands five times more surface contacts than standard wrapped cover pressure washer hoses.
Visit www.watercannon.com and search 041028 to see this product specifications. If you need application assistance please call one of Water Cannon's industry trained technicians at 1-800-333-9274