Telesteps Kevlar Non-Conductive Telescoping Ladders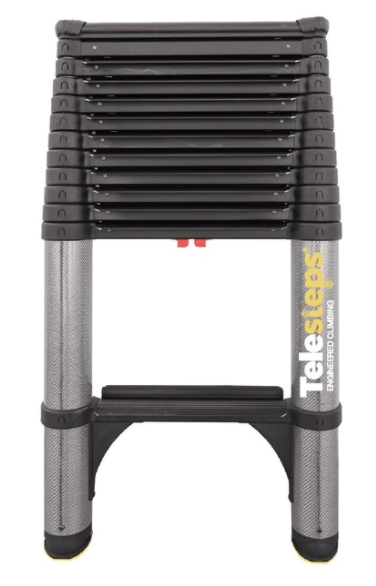 Telesteps, by Regal Ideas, has recently introduced the only Kevlar non-conductive telescoping ladders in the world.
"The Kevlar ladders are ideal for anyone working around electrical applications. They fit easily in confined spaces and are a great solution to ladder challenges," says Shawn Reeves, National Sales Manager.
The ladders close to 34 inches or less to fit the needs of the growing trend towards smaller vehicles. The compact size and easy portability of Telesteps ladders help the user avoid the injuries caused by removing other larger ladders from racks and carrying them on jobsites.
The ladders are the result of years of research and development. Both the 1600EKP extension ladder and the 12EKS stepladder are OSHA compliant and tested to ANSI 14.5 standards.
"Safety is our number one priority," adds Reeves. "Our safety features include the patented One Touch Release, patented Silicone Swivel Feet, Safety Lock Indicators on every step, and wide Pro Steps."
The 1600EKP extension ladder is Type 1A, rated at 300 lbs. The 12EKP stepladder is Type 1A, rated at 375 lbs.
The Kevlar non-conductive ladders round out the Telesteps line of telescoping ladders. This video shows how easy they are to use. For more information, please contact shawn@regalideas.com .
To explore the model 12EKS stepladder, click this link: https://youtu.be/23lGnXqZHII