BRACE Power Transmission Pole Scaffolding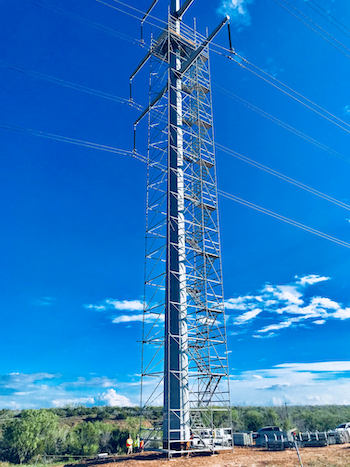 In today's expanding economy, the country's record-setting electricity needs are placing more demands on the electricity supply chain than ever before.
With more than 360,000 miles of transmission lines in the U.S. bulk electric system, transmission pole construction, warranty inspections and repair projects present a myriad of challenges for operators, including aging steel structures remaining in service, corrosion issues, damage caused by harsh climate conditions, and other challenges that further complicate construction and maintenance of the grid.
Advanced 'Less is More' Solution
Based on a "less is more" concept, the new BRACE modular scaffolding system delivers quicker, easier access to power transmission line poles to keep the work moving even under the tightest deadlines.
"Our advanced scaffolding solution is simpler and easier to handle compared with bringing in trucks and crane baskets, especially in hard-to-reach places like rural areas, where construction warranties on transmission poles require a firsthand physical inspection," explains Danny Saenz, President of BRACE Integrated Services – Southwest. "This is a way to get inspections done quicker and cheaper."
The cutting-edge scaffolding kit features self-locking ledgers and self-locking decking ensuring that decks are locked into place, secured against lifting and ensure a gapless fit to any geometry. In fact, the main components ̶ standards, ledgers and decking ̶ have a uniform length and width grid arrangement of 25 cm or 50 cm. About 15 percent lighter in weight than most traditional scaffolding materials, the decking can be flexibly installed in two directions without causing tripping hazards. Fewer workers are required to install and dismantle the system, which can help lower costs. Thus, complete kit units can be pre-assembled safely and quickly on the ground and then joined together to form larger scaffold units.
BRACE scaffolding can significantly reduce wind-out/weather delays and high costs associated with cranes. A stiff breeze (20 MPH or more) could shut down a crew for the day, resulting in costly downtime. Less time is required to repair easements and BRACE scaffolding supports auto-welding equipment at extreme heights, notes Malachi Millard, Operations Director of Brace Integrated Services-Southwest.
"Our crews can work ahead of the inspection and repair crews, which is not possible with a crane. We can get in and out in two days, which is a more expedited timeline than what a crane allows," he added.
Safety Is a Core BRACE Value
"We take scaffold safety seriously," Saenz adds. "The improved design of our scaffolding drives safety and productivity because there is no crane or boom that can make contact with a power line, eliminating a primary source of electrocution hazards. We ensure that all of our employees are trained to take action to anticipate, recognize, evaluate and analyze a situation to protect themselves and others."
Safety instructions and load specifications are strictly observed at all times.
"At BRACE, our safety commitment is driven by the well-being of our clients and employees," emphasizes Mary Zappone, CEO of BRACE Industrial Group. "Prioritizing safety makes for a more efficient and productive environment. Every member of our crew is empowered with the training and technology to mitigate risk and maximize safety."
BRACE Industrial Group is a leading provider of industrial construction services – including scaffolding, insulation, fireproofing, heat tracing, industrial siding and decking, abrasive blasting, painting and specialty coatings, lead/asbestos abatement, concrete repair and refractory. Its Best in Industry safety performance, cutting-edge scaffolding systems and decades of experience make it the premier nationwide specialty contractor. Safely, On Schedule, Under Budget, To Spec. Every Project, Every Time.
Visit www.brace.com or phone 281-749-1020 for more information.