Thomas & Betts Surge Protection Products for Alternative Energy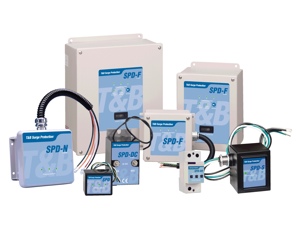 The new Surge Protection line from Thomas & Betts (T&B) provides premium protection for alternative energy sources from the damaging effects of electrical power surges. The Thomas & Betts portfolio, which includes Joslyn surge protective devices, provides protection from the component level up to complete facility coverage.
T&B Surge Protection products are available with optional EMI and RFI filters to protect sensitive control systems from interference caused by variable frequency equipment. The T&B line includes individually fused MOVs to provide protection from extended surge events. Available surge ratings are 400kA, 240kA, 160kA and 100kA per phase. DIN rail mounting is also available with these devices. By combining two or more T&B Surge Protection units in an electrical system, the product warranty is extended from 10 to 15 years.
"These alternative energy sources – wind farms, solar panels and solar collectors – are typically installed in remote locations, making them more susceptible to lightning strikes and power quality abnormalities," says Jonathan Rodriguez, Thomas & Betts product manager for alternative energy surge protective devices. "In fact, lightning damage is the single largest cause of unplanned downtime in wind turbines. The Thomas & Betts line provides complete surge protection, from individual components to an entire plant."
For more information about the Thomas & Betts line of surge protective devices for alternative energy sources, visit www.tnb.com, or contact your Thomas & Betts sales representative by calling (800) 816-7809.