Cables & Lights: TURCK Ethernet cables for harsh environments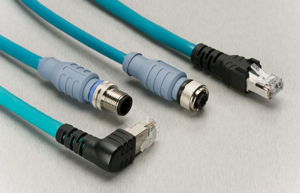 TURCK announces new Cat 5e Ethernet cables that are Gigabit capable and incorporate flexlife cable jackets. This jacket material is resistant to abrasion, crushing forces and chemicals, making it particularly suitable for harsh duty environments.
The Ethernet cables are available with 4 or 8 conductors (2 and 4 pair counts). The cables may be specified with straight or right-angle RJ45 or M12 connectors, accommodating diverse application requirements.
TURCK is an industry leader providing superior quality sensing, connectivity and network products to help manufacturers improve their automated processes. For other TURCK product or technical information, contact: 1-800-544-7769