Titan HEA TR1 Low Pressure Airless Tip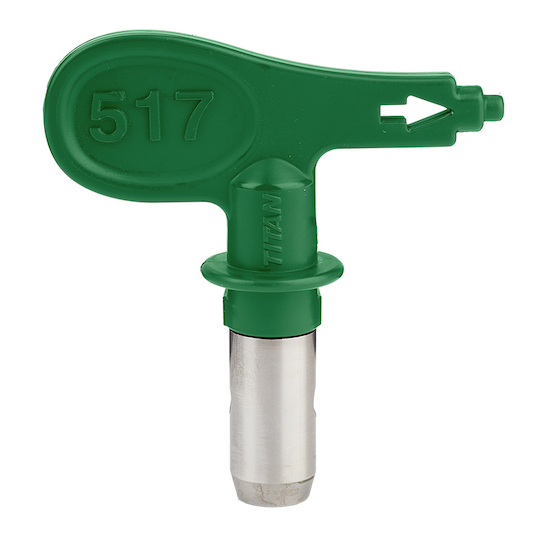 Titan is expanding its line of premium TR1 tips – one of the industry's best performing lines of reversible airless tips for residential and commercial professional painting applications.
The new HEA (High Efficiency Airless) TR1 reversible airless tip features revolutionary tip technology that will allow spraying at lower pressures, delivering total control and extending the life of sprayers.
The HEA (High Efficiency Airless) TR1 features an optimized dual orifice that atomizes latex and other common architectural paints at 1,000 PSI. It has the same production and flow as higher pressure tips, but low pressure technology delivers a softer fan pattern and reduces overspray by up to 55 percent, while saving up to 35 percent in paint consumption.
Also, the TR1 HEA tip produces feathered edges for a better finish when overlapping spray patterns.
When using the HEA TR1 at low pressures, the pump does not work as hard, so the sprayer will spray more gallons of paint before repacking is needed. HEA technology also extends the tip life up to two – three times.
The HEA TR1 will be available spring of 2017 at professional equipment and industrial supply distributors in the U.S. and Canada.
As a leader in spraying technology, Titan manufacturers and markets a full line of professional-grade sprayers for applying a variety of coatings. Titan products include airless and air powered paint sprayers, fine finishing sprayers, sprayers for applying texture, roofing and corrosion control and protective coatings, and line stripers for sports fields and asphalt. For nearly half a century, contractors and maintenance professionals have relied on Titan products for world-class, end-to-end solutions that are dependable and easy to use. Visit www.titantool.com.