SENCO Hybrid Air Hose and Swivel Couplers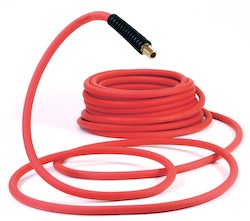 The movement and containment of air from the compressor to pneumatic tools is essential to maintaining effective operating pressure. To improve efficiency, SENCO has introduced its premium Hybrid Hose and an assortment of swivel couplers and plugs.
The hybrid air hose combines the two best features of existing air hoses in the market today. Rubber air hoses o­ffer the best flexibility but, rubber breaks down and will eventually crack and rupture. In contrast, PVC air hoses o­ffer a greater durability, their primary drawback is the lack of flexibility and has a significant memory that will retain the coiled shape especially in cold temperatures. The new hybrid polymer hoses have the flexibility of a rubber air hose but the long life of a PVC air hose.
FEATURES AND BENEFITS
Ultra flexible even in extreme temperatures (-40° to 150°)
Lays flat and will not kink when under pressure
A maximum working pressure of 300-PSI
Reinforced bend restrictors
40% lighter weight than most rubber hoses
Smooth non-marring finish makes it ideal for indoor trim work where scratching surfaces could create damage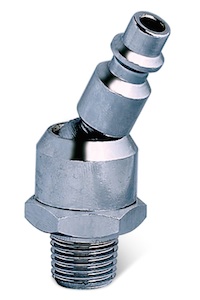 These 1/4-inch hoses come in 50 ft. or 100 ft. lengths and for more demanding applications, SENCO offers field repairable hose ends made with aircraft grade aluminum for easy on-site repair without hose clamps.
Quick connect couplers have been around for a long time. They allow a user the ability to quickly and easily attach and disconnect tools from an air hose. SENCO's new swivel coupler allows better flexibility of the tool by rotating 360-degrees at a 45-degree angle. This will reduce fatigue and allow the tool to be utilized in tighter work spaces.
Swivel plugs have this same benefit, but they can be difficult to connect to a standard coupler. The small plug tends to swivel as the user tries to make the connection and often times they have to chase the plug as it moves. The swivel coupler still provides the same benefits, but they are much easier to connect. The coupler is held in the hand thus eliminating the chasing effect caused by the swivel coupler.
Both deliver the same air flow as normal coupler and plug and are available in both MPT and FPT styles.