Lubes & Chemicals: Toms Secret Formula line
Tom's Secret Formula line from Camie-Campbell now includes non-aerosol trigger spray biodegradable lubricants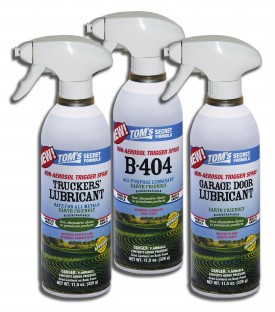 Camie-Campbell recently celebrated the 40th anniversary of Earth Day by announcing the continued success of their industry leading line of green products, as well as the introduction of the Tom's Secret Formula line of Non-Aerosol Trigger Spray lubricants. Since launching the full aerosol line in 2008 at the National Hardware Show, Tom's Secret Formula has managed to grow from the U.S. to Canada.
In the past two years, many other products like Tom's Secret Formula have been introduced to the market, but they do not have the same proven positive test results. Tom's Secret Formula has been rated No. 1 by independent testing and was also recently evaluated by the Handyman Club of America, receiving a 93 percent overall approval rating.
"Our company is environmentally conscious in everything we do, but we created our Tom's Secret Formula line because we saw a need for products that help preserve the environment, and now we've added a new feature: the Non-Aerosol Trigger Spray," said Mike Polizzi, National Sales Manager of Tom's Secret Formula. "Creating an earth-friendly alternative to our Camie brand was an easy way to give back and keep both our users and the environment safe from harsh chemicals. We are very focused on environmental issues and the solutions we can provide in the industrial and hardware retail markets."
The Tom's Secret Formula line includes B-404, a high performance all-purpose lubricant, Garage Door Lubricant and Truckers' Lubricant, a mechanical lubricant. All three products provide an earth-friendly alternative to traditional all-purpose and mechanical lubricants. Each is formulated with natural vegetable oils and has a variety of functions.
B-404 is an all-purpose lubricant that is safe for all types of metal. It clings to surfaces and does not evaporate, which enables B-404 to provide a longer lasting effect compared to traditional petroleum based lubricants. In addition, it is an excellent tool for loosening rusted or frozen bolts and nuts.
Garage Door Lubricant, which has commercial and residential uses, surpasses the lubricity and performance of traditional garage door lubricants.
Truckers' Lubricant is a high performance mechanical lubricant specialized to cling to surfaces, reducing waste and clean up. It has a variety of uses from hinge pins, to tracks and rollers for roll-up doors, to cargo load docks.
All three products will be available in their Non-Aerosol Trigger Spray variations. From an environmental standpoint, the Trigger Spray products have zero VOC content. In regard to safety, the design of the new product eliminates the flammability and contents under pressure hazards. In addition, the recyclable steel cans allow for easy disposal because the product is not bound to strict aerosol disposal regulations.