Lubes & Chemicals: WD-40 Trigger-Pro

Easy-to-use, non-aerosol product gives users more control, less mess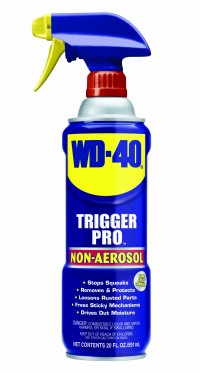 WD-40 Company introduces WD-40 Trigger Pro – a non-aerosol product with the same WD-40 formula – to better meet the needs of its industrial end-users.
The latest innovative delivery system in the WD-40 brand product line, WD-40 Trigger Pro features an easy-to-hold ergonomic can and a multi-action nozzle that allows users to spray WD-40 as a wide spray or stream – with no overspray or leaking. Designed for on-the-job versatility, its trigger format gives WD-40 users more control – a few drips at a time for drilling and cutting, or more for spraying down large surface areas. The product is also easy to dispose of, due to its non-aerosol format and recyclable steel packaging.
"Millions of people use WD-40 to maintain and repair equipment, but some of our on-the-job users work in environments where aerosols are prohibited. Some also prefer the unique attributes of a non-aerosol product," said Tim Lesmeister, vice president of marketing for WD-40 Company. "WD-40 is committed to providing its industrial end-users innovative solutions and options, and WD-40 Trigger Pro gives them what they need to get the job done."
The new WD-40 brand product line will consist of: the WD-40 Smart Straw (8 ounce, 11 ounce, 12 ounce); WD-40 Big Blast (18 ounce); WD-40 No-Mess Pen, WD-40 aerosol can (3 ounce); WD-40 Trigger Pro (20 ounce); WD-40 Industrial (16 ounce); and WD-40 Bulk (1 gallon, 5 gallon, 55 gallon).
wd40.com/products/trigger-pro.