Other Products: Trend Adjustable Lock Jig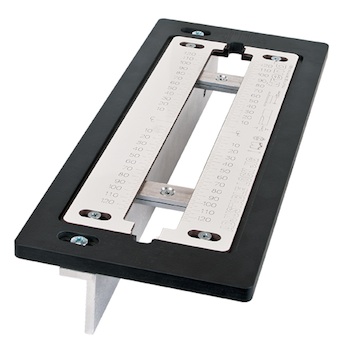 Trend has introduced a new lock jig that employs adjustable sliding inserts that allow faceplate and mortise recesses for popular size door locks to be routed quickly and efficiently.
The new lock jig (Part #LOCK/JIG/B) is made of 1/2-inch-thick laminate and it is fully adjustable for lock face plates up to 10 inches in length and it employs engraved site lines for face plate widths of 7/8 and 1 inch and mortise widths of 5/8 and 3/4 inches.
The jig is engraved on the bottom for 1-3/8, 1-3/4, 2 and 2-1/8-inch door widths. The jig can be utilized on doors 30mm (1.18) to 80mm (3.15 inches) thick.
The Trend Adjustable Lock Jig comes equipped with a pair of preset width setting gauges and an adjustable setting bar (two clamps and a screw driver will be needed to adjust settings), long reach 1/2-inch shank router bit and a 30mm bushing. The jig is designed for use with a 1/2-inch shank plunge router.
The Trend Item# LOCK/JIG/B is available for $149.95 through authorized Trend distributors. For more information, please visit www.trend-usa.com.