Other Products: DEWALT DCW100K Portable Stick & TIG Welder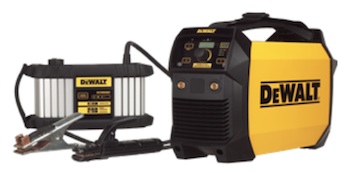 DEWALT introduces its first Portable Stick & TIG Welder (DCW100K), which can be operated in cordless mode for maximum convenience or easily plugged into a 20 Amp circuit or generator.
With an internal lithium ion battery, the DCW100K recharges while it's plugged in. The external 4.4lb 50 minute charger keeps the DCW100K ready to use remotely at any time. Weighing less than 25lbs, the welder itself is easy to move around a job site whether it's for mechanical, fleet field or jobsite repair and install, or stair and railing work.
At 140 Amps Max Stick and 150 Amps Max TIG, the DCW100K offers pro-grade performance for a majority of job site and construction applications. The unit features a digital display which indicates the amperage and control values, manipulated via adjustment dial.
Other displays include a Stick/TIG Welder Type Selector and a Hot Start/Soft Start setting which allows the DCW100K to start easily and maintain a stable arc at low amperage.
Additionally, an Arc Force Dynamic setting increases the amperage, helping to prevent the weld pool from solidifying. A battery status bar shows the remaining charge. Finally, the DCW100K includes a 13-ft. stick electrode lead as well as a 10-ft. grounding lead.
Ward Smith, DEWALT product manager said, "DEWALT continues to push the boundaries of cordless innovation on the jobsite delivering a portable power solution for the welding professional. The DCW100K Cordless Welder delivers premium performance in a lightweight and portable package."