Other Products: Two Technologies N5Print ultra-rugged handheld camera/scanner/printer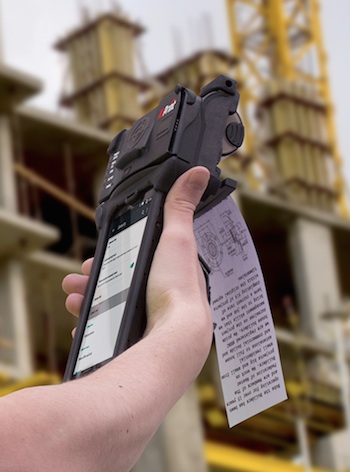 Two Technologies, Inc. has just unveiled the newest member of its ultra-rugged handheld devices, the N5Print – ideal for those managing construction projects of any size.
The N5Print is an all-in-one device that takes communications, data input, credit card transactions, photography, scanning and on the spot printing to a higher level of in-field convenience and performance.
"This is the first in a series of completely integrated mobile devices with printing capability that provides the kind of protection a hand-held communication/computer device needs for construction environments, where normal cell phones and mobile computer devices are often prone to damage," says Joan Rickards, Executive Vice President of Sales and Marketing at Two Technologies.
"This is unparalleled in the mobile handheld industry. The N5Print lets users print 3" receipts or other data directly from the integrated thermal printer."
The unit's 13MP color camera, audio and video recording functions provides public safety employees with the ability to capture multiple types of data and store in N5Print's 16GB internal memory and 64GB MicroSD.
Utilizing a rain resistant 5.7 inch diagonal high resolution 1080 X 1920 Super AMOLED display touchscreen, the N5Print's on-screen keyboard delivers full functionality for on-site data capture regardless of severe weather and other risky. The N5Print is designed to execute critical functions regardless of the primary application.
Data can be uploaded even if other activities are being executed. In case of an emergency in the field, the N5Print includes an ALERT button that can be programmed to send a SMS text message while running an unrelated application or no application at all.
The N5Print runs the powerful Android OS version 4.4.4 (KitKat), features a hot-swappable battery, 3-channel magnetic stripe reader, NFC, Smart Card Reader and a dedicated barcode scanner. A drop-in cradle with spare battery charger may be used for desktop or vehicle mounting.
The device is IP65 rated and meets or exceeds MIL-STD 810G using method 516.6 and method 514.6 for both shock and vibration. It goes without saying that the N5Print is more than ready to serve you in any need.
Headquartered in suburban Philadelphia, Two Technologies develops handheld computers and terminals for demanding applications. With more than one million units in use, it is a strategic partner to hundreds of domestic and international emergency operation agencies, value at risk operations, system integrators, and solution providers.
These include fire and rescue services, ambulance and emergency medical services, including HAZMAT responders, police and security guards, building safety officers, and others.
"One of the biggest problems with current devices now in use by these services is that they lack the ability to print on-site records and documents. As the wave of the future, our new device solves this problem," says Rickards.
For more information, visit www.2t.com/N5Print-Ultra-Rugged-Handheld.asp