US Hammer Gas-Powered Jackhammers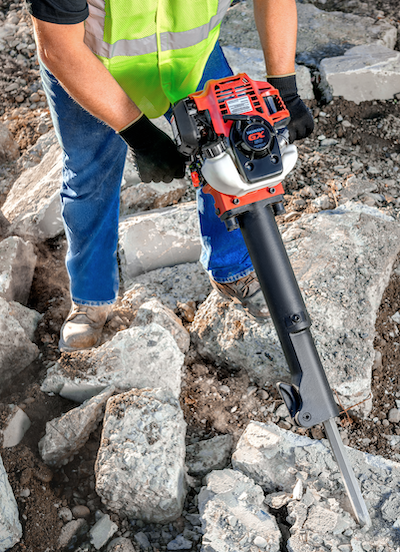 US Hammer, a cutting-edge construction equipment manufacturer out of California has invented something that is groundbreaking (literally). They developed a line of gas-powered jackhammers (the Gas Breaker GB-70 & Gas Breaker GB-90) but they hope you'll just call them "the jackhammers" when you're asking someone to bring it to your site.
The company believes the new line will quickly become the quintessential go-to jackhammer for small, medium, and large jobs in and out of the construction industry, especially when compared to traditional pneumatics
The US Hammer line of jackhammers differs greatly from its bulkier pneumatic-driven cousin for a few reasons.
No Air Compressor + More Portability
It needs no air compressor, which is typically a $20,000 add-on to the price of a pneumatic jackhammer. And because US Hammer's gas-powered jackhammer has no need for a compressor, it's easily stowed in any truck, making it an ultra-portable solution for anyone that needs it.
Just as Powerful and Twice as Quiet
US Hammer didn't just invent any old gas powered hammer, they've invented the best gas powered jackhammer on the market. It's 50% more powerful than any existing gas or electric jackhammer, produces much less noise than a pneumatic hammer, and comes CARB and EPA certified.
Best of all? It's driven by a Honda motor that relies on less than 4 gallons of fuel for an 8-hour workday.
Gas powered jackhammers are no longer just a "plan b" for people that can't afford, or can't transport a heavy pneumatic hammer. Thanks to US Hammer, they're a competitive, cost-efficient option that puts powered jackhammers within reach of anyone that needs to break ground, no matter how small or how large the job.
US Hammer [www.ushammer.com] is a construction equipment manufacturing company based out of Woodland, California. They're industry leaders and continuous innovators of gas-powered tools. Their expertise is in gas jackhammers and post drivers, where their innovation has given them notable recognition in the construction industry.
For more information, or to inquire about their products, email us at cgalloway@ushammer.com or call us toll-free at 1-888-50-USHAM (87426).