VaproShield ReNewShield Barrier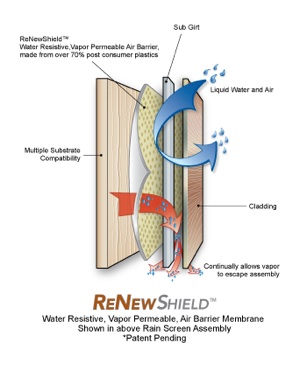 VaproShield, announces ReNewShield, a new patent pending, vapor permeable, air and weather resistive barrier manufactured from 70% post consumer recycled plastic.
ReNewShield is manufactured using recycled plastic (PET 1). By volume, approximately 70% of ReNewShield content is recycled plastic from water and pop bottles. It is 100% recyclable after its useful life, fully incorporating the concept of "Cradle-to-Cradle" design.
The sustainable design of ReNewShield requires 70% less virgin material than other conventional building wraps and the use of recycled material greatly reduces the environmental impact and carbon footprint.
ReNewShield passes all testing and criteria in its class, including: ICC-ES AC 38, Air Barrier ASTM 2178, ASTM E-84 Class A Fire Rated. With a perm rating of 75, ReNewShield allows moisture vapor within the building to escape, ensuring good indoor air quality.