PB Swiss Tools 8220 PC Repair Toolkit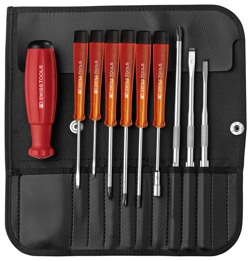 Count On Tools Inc., introduces the PB Computer Repair Toolkit from PB Swiss Tools. The new toolkit is designed for repair technicians and field service personnel to install, maintain and troubleshoot PCs, workstations and more.
Features of the PB Swiss Tools 8220 Toolkit include:
Professional quality screwdrivers in a small space and always at hand
100 percent Swiss made with unlimited lifetime guarantee!
Extensive interchangeable blade assortment for any area of use
Slender round form for easy and precise work
Structured slip proof surface for safe tightening and loosening of screws
Precision screwdrivers featuring a rotating cap, round shaped handle end for quick turning and fine adjustment work
Tool kit Includes: Flat sizes 00-3, Phillips sizes 0-2, Torx size 10, and Socket size 5 mm
Retail Price: $94.89
For more information about PB Swiss Tools' 8220 Toolkit, visit the web site.