Viega ProPress Hydronic Ball Valves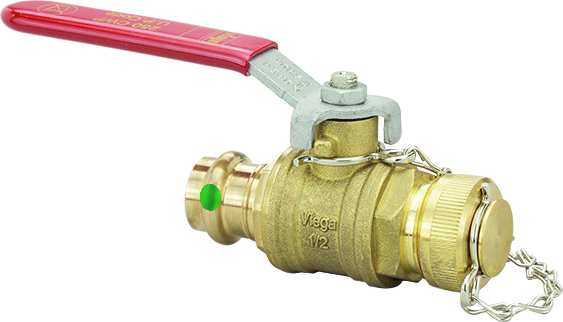 Viega introduces its line of Viega ProPress Hydronic Ball Valve press x hose thread for copper systems.
The hydronic ball valves are full port and designed for non-potable water applications. The ball valves are available in 1/2- and 3/4-inch press sizes and 3/4-inch hose sizes. The ball valve features NH threads and an EPDM sealing element.
The Viega ProPress copper system is available in more than 600 fitting configurations, in sizes ranging from 1/2 to 4 inches. The patented Smart Connect feature, available only from Viega, provides installers with added confidence in their ability to ensure the integrity of connections.
"The hydronic ball valves are another example of Viega's ability to consistently expand its product offerings to meet demands of new markets and applications," said Kate Lee, product manager, metal systems at Viega. "We continue to develop more innovative products to meet customer needs in the copper fittings market."
Viega ProPress joins copper tubing in seconds without flame or heavy equipment. The system can be customized to suit nearly any residential, commercial, industrial or marine application from potable water to natural gas. It has been tested to the strictest standards in North America, gaining more approvals than any other press fitting system.
Viega ProPress fittings are available with EPDM, HNBR and FKM sealing elements.
The Viega Group, with a tradition of innovation for more than 115 years, has more than 4,000 employees worldwide and is among the leading manufacturers of pipe fitting installation technology. In metal press systems for industrial, commercial and residential projects, the company is the global market leader.
In the U.S., Viega LLC employs nearly 500 people and offers more than 3,000 products. These include Viega ProPress for copper and stainless, Viega MegaPress for black iron and stainless pipe and the Viega PureFlow System including PEX and fittings in high-performance polymer and Zero Lead bronze. Viega also specializes in the design, production and installation of ProRadiant heating and cooling systems, and offers In-Wall Flushing Technology including carriers and flush plates. For more information, visit www.viega.us.