Pipe Tools: Greenlee 854DX Shotgun Shoe Bend Four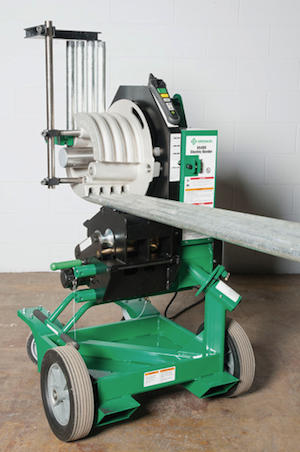 Greenlee's new Shotgun Shoe for the 854DX can bend up to four pieces of conduit at the same time. The bending process is now twice as efficient, and increases productivity. Contractors can generate big savings on high volume bending scenarios with four times the productivity.
The Shotgun Shoe is also highly versatile, and allows for bending up to eight different conduit types, including Rigid (½", ¾", 1"); IMC (½", ¾", 1); and EMT (¾", 1).
The shoe also contains the ultimate compatibility that allows it to work with the Greenlee 555C, 555CX, 555DX, and 854DX benders. Now available for the 854DX, the Shotgun Shoe features a lightweight cast aluminum design that can be easily transported for simple assembly. The new roller support fits conveniently over the existing 854DX rollers.
With this upgraded solution, the 854DX Shotgun Shoe does requires new software to operate on the existing 854DX bender. This easy set-up application is designed to achieve accurate, repeatable bends.
According to Damon Henderson, Product Manager, "The Shotgun Shoe for 854DX combines two of Greenlee's newest and most innovative products for the ultimate solution in bending productivity."
Electrical contractors now have an improved, efficient, innovative solution for both prefabrication shops and on the jobsite bending needs.
Bending up to four pieces at once saves time; reduces scrap and rework; eliminates extra movement and waiting; and gets rid of redundant actions normally done to achieve consistent bends in large quantities. This directly translates to increased speed and decreased cost. The 854DX Shotgun Shoe is expected to pay for itself in less than one year.
For further information, including product details www.greenlee.com