Hand Tools: VinTool SuperKut Insulation Knife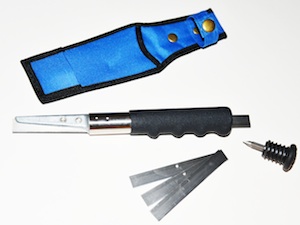 Created by a veteran insulation installer, the new SuperKut Insulation Knife by VinTool Inc. makes cutting insulation faster and easier with less strain.
Specifically designed for insulation, this contractor-grade cutting tool compresses the material so a special blade can make superior cuts in one stroke. Producing less fatigue on wrists and hands and reducing the amount of material waste, SuperKut is an important tool for anyone working with insulation.
The patented SuperKut consistently makes perfect cuts up to seven times faster than ordinary knives. While standard utility knives can be slow, cumbersome and often painful, its four-inch scraper blade makes cutting easier and more efficient. The blade is held in an angled metal sleeve that can be conveniently used to tuck insulation into tight corners. It produces less waste than other cutting tools. And its ergonomic design results in less strain and fewer injuries for the user.
"I've been installing insulation for 23 years and I had it with regular utility knives," said Vincent Schultz, President of VinTool Inc. "Jobs were too slow, my hands were a wreck at the end of the day and I could never get the type of cut I wanted, even with the sharpest razor blades. I knew the problems. I just needed the solution. So I designed the SuperKut. Now other installers tell me how great it is."
The SuperKut is designed for cutting insulation but also works well on foam board, ceiling tile, rockwool, carpeting, vinyl flooring and sod.
Each SuperKut Insulation Knife comes with four blades and a screwdriver, molded into the handle, to easily change the blades. It has a 30 day, money-back guarantee.