Hand Tools: IPA Gator Jaws Oil Filter Removal Tool

IPA announces Gator Jaws, the most versatile filter plier for removing all spin on type filters; motor cycles, cars, SUVs, trucks, and heavy duty equipment. These patented pliers with angled gripping teeth and jaw are the only tools of their kind specifically designed to grip and remove even the most difficult stuck filters.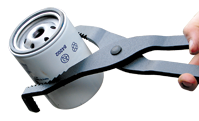 The 23-inch long handles and aggressive biting teeth provide maximum leverage, grip and torque. The special bends and angles allow even the most difficult-to-access areas without getting grease or burns on your hands and arms on hot engine compartments or exhaust manifolds.
Gator Jaws are large enough to grip 7-inch-diameter filters and versatile enough to grab as small as 2.5-inch filters. They work perfectly for oil, fuel, transmission, hydraulic, canister type filters, fuel tank sending units and more. Designed by a US inventor, manufactured and assembled in the USA, this is a quality product you can depend on for all types of filter changing needs.
Even the most difficult oil filters come off with ease.
Removes over-tightened filters
Works on oil, fuel and hydraulic filters, fuel-sending units and more
Snakes around hot exhaust manifolds
It's 23" long with tremendous holding power
Two different settings for optimum grip (1½ - 12")
Lifetime warranty