Hand Tools: Ideal Twist-a-Nut Pro Screwdrivers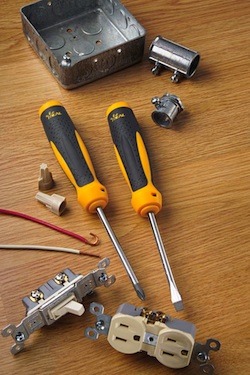 Ideal industries' Twist-A-Nut Pro screwdrivers meet the high standards of professional electricians with unmatched performance, rugged design and value.
Twist-A-Nut Pro screwdrivers are available in the four slot designs most commonly encountered by electricians: #2 square, 1/4" slotted, #2 Phillips and 1/4" cabinet.
Each screwdriver has the Ideal Wire-Nut Connector Wrench in their handles to help install twist-on wire connectors with minimal effort, even in tight spots, and reduce finger fatigue. In addition, the Ideal Accu-Loop wire looping hole in the handle creates perfect loops for connecting devices like switches and receptacles.
Because grip is critical to generating twisting force, the Twist-A-Nut Pro handle features a textured Santoprene grip combined with six torsion bars that results in superior torque plus will resist damaging perspiration, water, oil and chemicals that could limit service life.
Ideal precisely grounds the tip of its Twist-A-Nut screwdrivers to provide the most secure fit in a screw slot. Tough, chrome vanadium steel shanks deliver robust strength and long life.
For more information, call 800-435-0705.