WORX BladeRunner X2 Benchtop Saw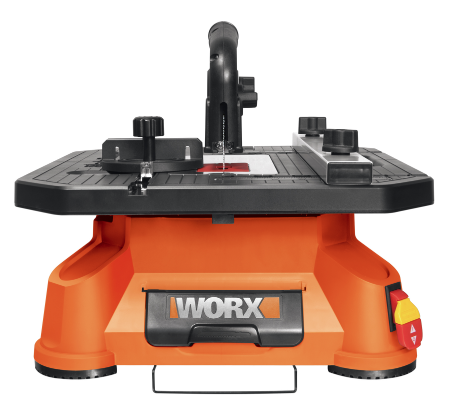 For DIYers, it's time to shelve the hand saw and miter box, and step up to the new WORX BladeRunner X2. This lightweight, portable benchtop saw does the work of multiple saws by making fast and accurate rip, crosscut, scroll, inside and miter cuts using standard T-shank jigsaw blades.
In the power tool accessory aisle of hardware stores and home centers are 4-in, jigsaw blades. These blades are offered in a variety of profiles to cut wood, PVC, plastic, aluminum and other non-ferrous metals, as well as ceramic tile. Unlike conventional saws, BladeRunner X2 enables do-it-yourselfers to tackle a variety of projects by simply changing blades.
"What's nice about this benchtop saw is that it's not limited to only cutting wood," said Sharon Blackwell, WORX Product Manager. "Oftentimes, homeowners need to cut aluminum, PVC, copper pipe or ceramic tile, and BladeRunner X2 handles all those materials by simply changing blades."
BladeRunner X2's compact size makes a small footprint of 17 inches wide by 15 ¾ inches deep. The saw weighs 14.7 pounds and is 6 ¾ inches high, which makes for a comfortable work height when mounted to a workbench. It's ideal for home workshops, or easily carried right to the jobsite.
Building a summer project like a bird feeder, trellis, potting table, garage shelving, garden bench or Adirondack chair is well within reach of BladeRunner X2's capabilities. . Construct a bike stand, fishing rod holder or garden tools storage holder. Create metal lawn ornaments or ceramic-tile tabletops, trivets and coasters for summer deck parties.
One big advantage of BladeRunnerX2 versus conventional benchtop saws is the ease of changing blades. There's no need for wrenches; just slide the blade release lever on the left of the tabletop to seat or release the blade. Once the blade is in position, guide rollers ensure accurate 90 degree cutting at all times.
BladeRunner X2's adjustable hold-down arm match the thickness of the work piece, and incorporates a splitter to help keep straight cuts on track. It holds the work piece against the table to minimize vibration, and flips out of the way when making interior cuts.
The BladeRunner X2 fence has two adjustment knobs to align work pieces for straight and accurate rip cutting. Fence channels at both the front and rear of the tabletop have measurement scales for precise alignment. A miter gauge also is provided for making angle cuts.
The versatile benchtop saw is powered by a 5.5-amp motor that delivers 3,000 strokes per minute. Its cutting capacity is 1½ inch in wood,-; 1¼ inch in PVC, 3/8 inch in aluminum and ceramic tile, and 1/8 inch in mild steel. The blade stroke is 3/4 inch.
Other features include an on/off paddle switch with safety key to prevent unauthorized use, 6-foot power cord and built-in carrying handle. The BladeRunner X2 is covered by the WORX 3-year warranty.