Grabber PanelMax Hybrid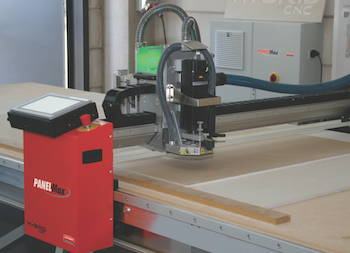 Since its introduction, PanelMax has wowed the industry with its incredible precision and high production rates in drywall fabrication. Now Grabber Construction Products is changing the course of drywall panel fabrication again with high technology.
The new PanelMax Hybrid debuts at Intex Expo 2018, demonstrating remarkable milling capabilities made possible by CNC machining.
More Control with Precise Computer-Aided Design
Created with the PanelMax ST48 as its foundation, the PanelMax Hybrid is also a premium, table-based system—with the addition of computer-aided controls. The PanelMax Hybrid features a 10-inch touch panel which allows users to create, produce, and save complex drywall designs without complex programming. Computer-aided measurements and cuts mean repeated installations can be produced more precisely and efficiently than ever.
CNC Machining Is Simple and Automated
"It's as easy as using a smartphone," explains Bevan Wulfenstein, Marketing Director for Grabber Construction Products. "Just by touching the screen, you can enter measurements for pre-set designs like circles or standard cutout and workflow shapes. Creating a freeform shape is like drawing a dot-to-dot on the screen."
A USB port allows a user to upload CAD files or drawings from most digital illustration programs. But no programming experience is needed. Onboard software in the PanelMax Hybrid converts these files into G-code and machine language. As an example, PanelMax Hybrid used a digital file to reproduce a spot-on cutout of the Grabber Construction Products logo.
Not only is it simple to enter cut specifications, the PanelMax Hybrid operates automatically. Just enter the design and fabrication requirements, and the machine does the rest. While the PanelMax Hybrid measures and cuts, an operator's focus can turn to priming, gluing and preparing panels for transport.
PanelMax is Transforming the Drywall Industry
"The capabilities of the PanelMax system is truly changing the drywall industry," comments Wulfenstein. "The PanelMax Hybrid opens a whole world of projects with possibilities for intricate designs. But it's the speed and efficiency that make the difference. The big win for PanelMax users continues to be its game-changing productivity."
Without PanelMax, drywall panels are individually hand cut. The process is time consuming, labor intensive, and prone to human error. Customers who use a PanelMax system simply program a project's measurements, and the system automatically reproduces exact cuts en masse. Panels can be produced off-site for just-in-time delivery, so there's tremendous installation efficiency.
Large construction companies find immediate impact using PanelMax, especially for projects with repeated installations on multiple floors. "Some of our customers report that their investment in PanelMax paid for itself within months," remarks Wulfenstein. "Not only does it improve their business, it has become an incredible competitive advantage."

See the Country's First PanelMax Hybrid at Intex Expo 2018
Grabber Construction Products will demonstrate the PanelMax Hybrid at the Intex Construction Expo, March 27-28 in Orlando, Florida. This is the first PanelMax Hybrid machine in the United Sates and it can be seen at Booth 1321. A video demonstration is also available at grabberman.com/Panelmax-Hybrid.mp4.
The PanelMax Hybrid is one more innovation from Grabber Construction Products, an international distributor of quality products for construction professionals. Grabber's line includes premium fasteners and fastening systems for wood, metal and drywall applications in the commercial and residential construction markets. Grabber also distributes a wide range of proprietary tools, accessories, equipment, and building materials to the construction industry.
For complete product details or to request more information about the PanelMax Hybrid, contact demo@grabberman.com or call 800-477-TURN (8876).