Other Products: Wagman WW616SRP Poly Pro Plastic Power Trowel Blade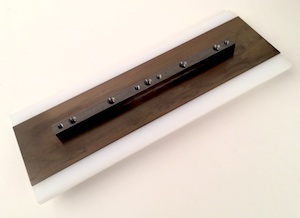 Wagman Metal Products Inc., adds the WW616SRP, Poly Pro plastic power trowel blade. This patented steel-reinforced plastic finish blade fits the WHITEMAN 8-foot, 12-bladed, HTXD-6i model power trowel from MULTIQUIP. This blade joins the steel blades in Original Silver, Blue XL, Gold Pro and the float pans in Z-clip and safety-catch style also for this machine.
This blade is added to the other popular Poly Pro blades. The Poly Pro blades allows the finisher to control the dark burn marks typical of steel blades when finishing. Used on new floors expected to be left exposed or to receive, but not limited to: a stain, dye, integral pigment, shake-on, or polished surface.