Other Products: K-Sun PipeMarker V8 Printer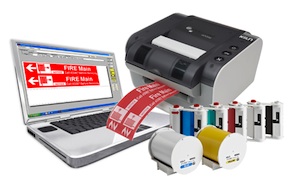 K-Sun Corp. introduces PipeMarker V8, a new software program for Microsoft Windows 8, 7 and XP and bundled with the K-Sun PEARLabel 400iXL, a new 300-dpi, wide-format thermal transfer printer.
The new one- to four-inch capacity PEARLabel 400iXL printer and software make it easy for safety and facility professionals to design and print custom ANSI and ASME A13.1 compliant pipe markers, tags and labels on all-weather adhesive supplies quickly and inexpensively, in-house and on-demand.
PipeMarker V8 contains hundreds of pipe marker templates in English, Spanish and bilingual formats organized into easy to access categories. New categories include Food Processing and HVAC Duct Markers.
Users can create custom pipe markers and add QR, DataMatrix and other bar codes for maintenance record access plus add additional text, sequence numbers, company logo, or symbols to help enhance communication on any pipe marker, tag or label.
The software can instantly convert pipe marker formats into tag formats that are ready to print. Users also can design and print custom arrow, diagonal stripe and checkered tape in lengths up to 90 inches long.
The K-Sun PEARLabel 400iXL Printer offers one-inch, two-inch and four-inch wide adhesive supplies in multiple color combinations necessary to meet industry standards for pipes and values.
The 400iXL printer has a small desktop footprint and easy access, front-cartridge loading of K-Tape resin thermal transfer ribbons and olefin adhesive-backed tapes.
The software and printer combination offers a significant cost saving. For example, a user can select and print a compliant pipe marker for a 2.5- to 6 -inch diameter pipe for under $2.00 in less than five minutes using the new PipeMarker V8 software and PEARLabel 400iXL thermal transfer printer solution.
For more information contact: K-Sun Corp., 370 SMC Drive, Somerset, WI 54025, 800-622-6312, ext. 214, Email: info@ksun.com, Visit the web at: www.ksun.com.
ksun