Other Products: Newark NewForm WireHolder Rebar Chairs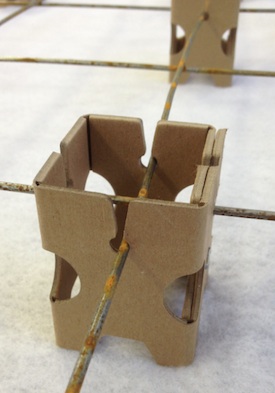 Newark NewForm WireHolder rebar chairs support concrete construction by lifting the mesh, cable or wire off the ground to keep the mesh supported above the membrane before and during concrete pouring. They are created from 100 percent recycled paperboard.
Newark Recycled Paperboard Solutions (Newark) is a leader in integrated manufacturing of 100 percent recycled paperboard and the production of paperboard products in the U.S. and Canada. The company supplies the raw material used to produce its products, making it a self-sustaining, environmentally sound company.
The Company's other construction products include:
Newark NewForm PoliGloss concrete forming tubes leave a smooth gloss finish without spiral seam markings during concrete pouring. The tubes are available in the widest range of sizes in the industry.
Newark NewForm with DuPont Zemdrain liner concrete forming tubes considerably increase surface hardness and abrasion resistance in finished concrete columns. The liner improves drying and curing time through the DuPont Zemdrain liner wicking properties at the surface of the concrete.
Newark Centurion DetecProtec floor protection covers and protects garage floors and work surfaces, leaving floors stain-free. The covering can absorb up to one gallon of oil, water, grease, antifreeze and other liquids. If used under an engine, spilled fluids are easy to spot on the covering's white surface.
Newark Centurion Temporary Surface Protection for Floors is available to include your custom logo, increasing brand visibility on job sites.