Weiler Abrasives Expands Flap Disc Sizes and Styles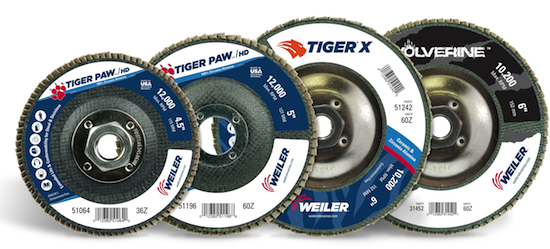 Weiler Abrasives, a leading provider of abrasives, power brushes and maintenance products for surface conditioning, has expanded its Tiger and Wolverine flap disc offering. The expansion includes 4.5-inch high density discs in a conical style (Type 29) and more options for metal fabrication professionals using 5 and 6-inch grinders.
"As 5- and 6-inch grinders become more prevalent in metal fabrication, providing larger diameter consumables ensures our customers have the solutions to address all their grinding and finishing needs," says Elliot Shepherd, associate product manager, Weiler Abrasives.
The new Tiger and Wolverine flap discs deliver varying levels of performance, depending on the user's needs. Composed of ceramic alumina and zirconia alumina grains, the 6-inch Tiger X standard density, conical flap discs are designed to offer maximum performance and aggressive grinding on flat steel and stainless steel surfaces.
These Type 29 discs feature an industry-first X3 technology that combines an advanced anchoring system, dual flap design and engineered backing — leading to fast grinding, a long life and greater productivity.
The Tiger Paw standard density, 6-inch flap discs are ideal for edge grinding on steel and stainless steel. The 100% ziroconia alumina grain holds up to high temperatures and extreme pressure, making them usable in heavy-duty applications. Tiger Paw flap discs are also available in high density designs for conforming to irregular surfaces.
Weiler Abrasives offers the high density Tiger Paw in a 4.5-inch, conical style (Type 29) , as well as 5- and 6-inch flat style (Type 27).
For general-purpose applications, the 6-inch Wolverine standard density, conical style (Type 29) and Wolverine high density, flat style (Type 27) flap discs offer a fast cut rate and consistent performance at a good value. These zirconia alumina discs work well when grinding steel or other metals.
All of the new flap discs have 40, 60 and 80 grit abrasive options to provide users with solutions ranging from beveling and weld grinding to blending and finishing. The 4.5-inch Tiger Paw flap disc has an additional 36 grit option for heavy stock removal.
The expanded flap discs offering joins a robust portfolio of power wire brushes and bonded abrasives designed for 5- and 6-inch right angle grinders. The combination of products gives metal fabrication professionals a wide breadth of solutions for their demanding grinding and finishing needs — allowing them to complete tough jobs quickly and accurately.
To learn more about Weiler Abrasives and their newly expanded lap disc line, visit www.weilerabrasives.com.