Arnott Tools' Miter Divider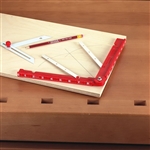 Get the perfect miter cut every time, without all the math or wasted materials.
The Miter Divider removes the frustration of guesswork and finding an accurate-fitting miter joint each and every time. Perfect for measuring and transferring any angle for walls, floors, crown molding, picture frames, decks, tiles and more.