Strong Hand Corner Magnet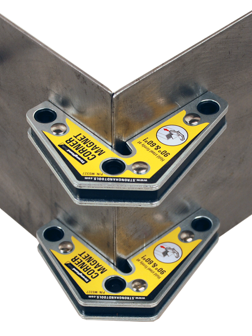 Holds at 90° from the outside of your substructure, for out-of-the-way clamping!
Strong Hand Tools, designer and manufacturer of Quick-Acting Welding Clamps, Magnets & Pliers and Welding Tables, has introduced the unique 90° Corner Magnet for holding workpieces from the outside, leaving unobstructed space inside your workpiece for welding. The unique, boomerang-shaped magnet is a 90° Magnet Square in reverse, with the 90° edges on the inside walls of the magnet. Create a precise 90° frame by placing multiple Corner Magnets around the outside of your structure.
At a height of just 3-1/2" inches, the Corner Magnet is compact enough to either use in the shop, or bring along with you for use in the field. It can easily be placed in a toolbox, or tucked into a pocket for use anywhere, anytime.
The Corner Magnet is especially useful in holding a flange in place for tack welding to pipes or tubes. The specially designed corner relief provides the necessary clearance for clamping around overlapping flanges, lips, or edges. The outside edge of the Corner Magnet provides a 60° clamping surface.
Strong Hand Tools is a world leader in the design and manufacture of a wide variety of innovative, time-saving clamping products for applications in metalworking, welding, MRO, metal fabrication and assembly. Strong Hand Tools can be purchased through a worldwide network of over 850 distributors. Visit www.stronghandtools.com for a searchable database of distributors.