Bostitch two-in-one nail set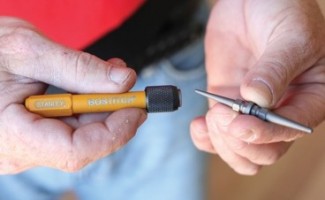 Bostitch engineers have updated the venerable nail set with a new reversible model. This unique design features a double-ended insert that provides a 1/32˝ nail set on one end and a 2/32˝ nail set on the other. To alternate between sizes, users can simply remove the insert, flip it around and re-insert the tip into the sleeve. Its knurled locking collar secures the nail set into place while providing a fast and easy changeover.
Additionally, the Bostitch reversible nail set features an all-metal striking tip for the solid transfer of striking power and durability. The striking end of the hexagonal sleeve accepts conventional bit tips and can be chucked into a drill for a versatile solution when the user needs a few extra inches of reach.
The new Bostitch nail set includes the basic tool sleeve and double-ended insert. It retails for approximately $9.99.