Ames True Temper Introduces 19 New Hammers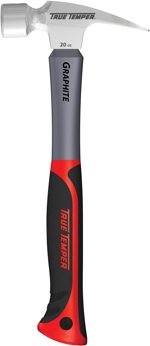 Ames True Temper announces the launch of a new line of 19 different True Temper Hammers. All of the tools include unique features to meet the needs of numerous applications, including general carpentry, heavy carpentry, framing, ripping, driving nails and installing materials such as drywall.
"Ames True Temper is a leading supplier of heavy-duty striking tools, so the development of a line of hammers is a natural progression for our product portfolio," said Darlene SantaCroce, Marketing Manager. "At Ames True Temper we are dedicated to providing a full set of solutions to our customers from the professional to the newly deemed DIYer. Our new line of hammers was developed with this purpose in mind."
The new line of hammers includes all-steel hammers, graphite handles and genuine hickory wood handles. All items in the line are forged and meet or exceed the American Society of Mechanical Engineers (ASME) specifications.
All-Steel Hammers
The hammers in this line are made of solid steel and are virtually indestructible. These claw, rip, and framing hammers, have been designed with heavy-duty jobs and professionals in mind, and include added features such as True Temper's patented anti-vibration technology to absorb shock and increase user comfort. These same features are found in the all-steel specialty line, which includes bricklayer's, drywall, and drilling hammers.
Additional features, such as the magnetic nail starter and oversized comfort handle, are engineered to also increase user comfort and safety. For example, the magnetic nail starter reduces the chance of injury on the jobsite and the oversized comfort handle has a non-slip ergonomic design for user comfort. The new hammers will also increase jobsite productivity, with an oversized striking face for improved accuracy in hitting the mark.
Graphite Handle Hammers
The graphite handle hammers offer more strength and durability, while also helping to reduce vibration. Features including the magnetic nail starter, oversized comfort handle and oversized striking face are all available on the claw, rip, framing and California framing hammer styles. There are five options for users to choose from among the graphite handle hammers.
Hickory Handle Hammers
True Temper's new hammer line also includes hammers featuring authentic U.S. hickory handles – which are 100 percent certified by the Forest Stewardship Council (FSC), an international, independent, non-governmental, not-for-profit organization established to promote the responsible management of the world's forests. The continuous fibers of these handles absorb shock and are extremely strong for the toughest of jobs.
The hickory handles are featured on hammer styles, including claw, rip, and California framing hammers, and also on a specialty line, including the tack, ball pein and bricklayers hammers.