Fuji EnviroMAX batteries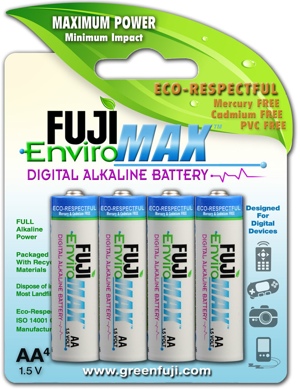 Fuji EnviroMAX, one of the first eco-respectful, high performance batteries on the market is now available to consumers nationwide. The much-anticipated battery line, which comes in Super Alkaline and Digital Alkaline varieties, offers "maximum power with minimum impact."
"We are pleased to introduce Fuji EnviroMAX batteries at a time when people are celebrating Earth Day and looking for easy ways to go green," said Jeff Kreidenweis, Director of Sales. "EnviroMAX batteries are made from materials that are derived from the basic elements of the Earth. There is nothing inside a Fuji EnviroMAX battery that will harm the environment."
The batteries are free of added poisonous mercury and cadmium, and can be disposed of in most landfills.*
Competitively priced, Fuji EnviroMAX batteries equal or exceed the performance and longevity of major equivalent brands. The Super Alkaline, available in AA, AAA, C, and D offer unexcelled power for the most common applications such as toys, radios, or flashlights. Digital Alkaline, available in AA and AAA are engineered to provide superior performance in high-drain electronic devices such as digital cameras, remotes and video games.
Consumers will find the batteries online at Amzazon.com, and at all ACO and ACE Hardware stores; select Sears, Target, Do It Best, and Tru Value Hardware stores; Dick's Sporting Goods, Big Y Stores (Massachusetts), Shop Rite and Kings Supermarkets (New Jersey), Shop' n Save (St. Louis), Marsh Supermarkets (Indianapolis), and other chains.
Fuji EnviroMAX batteries can also be ordered online direct from the company at www.greenfuji.com