Grabber becomes HYDROTRIM distributor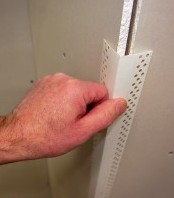 Grabber Construction Products is now an authorized distributor of HYDROTRIM water-activated drywall corner trim made by Structus Building Technologies, Inc.
Combining the durability and crisp finish of NO-COAT drywall corners with the convenience of a water-activated adhesive, HYDROTRIM corners are designed specifically for anyone who regularly installs outside corners and is looking for a faster, simpler alternative to metal and plastic corner bead. Simply spray with water and press on. No staples, crimpers, nails, screws, joint compound or messy adhesive spray is needed.
Once wet, HYDROTRIM can be adjusted during installation, and dries within 5-10 minutes for rapid finishing. Fast and easy to install, HYDROTRIM is a great alternative to paper faced metal corner bead, because it requires much less joint compound, and will not dent.
HYDROTRIM does not blister, bubble, dent or crack. HYDROTRIM's patent-pending design includes punch holes in the paper-plastic-paper flaps that allow joint compound to further bond the corner to the drywall, preventing the blistering that has plagued other water-activated products.
HYDROTRIM offers contractors a better business result than traditional outside corner products. Installation is faster and easier, fewer materials are required, and callbacks due to bubbles, cracks, and dents are significantly reduced.
HYDROTRIM is available in Outside 90 and L-Trim profiles and is shipped in waterproof packaging.