Casella VORTEX Ultra Flow Pump for Asbestos Sampling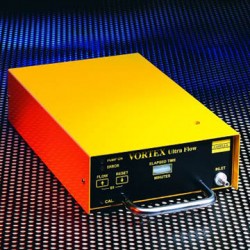 According to the United States Department of Labor, an estimated 1.3 million employees face significant asbestos exposure on the job. Heaviest exposures occur in the construction industry, particularly during the removal of asbestos during renovation or demolition.
The Casella VORTEX Ultra Flow sampling pump is the fastest, most convenient method to collect and count airborne asbestos fibers. It will continuously collect 6-20 liters of free air per minute for up to five hours to ensure a work environment safe from asbestos, or 6-12 liters per minute when used with a 0.8 micron filter. An asbestos head holds a gridded membrane for asbestos clearance sampling measurements or personal sampling.
The VORTEX Ultra Flow's portable and robust metal case, its built-in carrying handle, and its optional mast are features that uniquely qualify the unit for asbestos clearance, leak checking, environmental and stack sampling applications that require a 6 - 20 liters/min flow range. An elapsed time counter, which can be reset via the tactile keypad, rounds out the impressive feature set..
For more information, please call 800-366-2966 or email info@casellausa.com. On the web at www.casellausa.com.