General Tools Dovetail Jig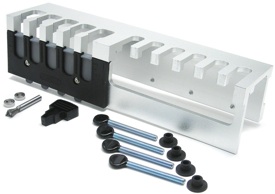 General's EZ Pro Dovetail Jig is a portable, heavy duty joining tool that features a self-aligning design to ensure evenly matched dovetail ends every time. The Dovetail Jig is perfect for furniture building, cabinetry making and other professional carpentry projects. It allows users to make professional dovetail joints right out of the box with no additional tools or equipment required.
It is made of sturdy machined aluminum.
• Makes Through Joints and Half-Blind Joints.
• Easy to use for the beginner as well as the professional woodworker.
• Self-aligning design ensures that both ends of the dovetail joint will match up evenly every time.
• Portable design lets you bring the jig to your work piece.
• Sturdy machined aluminum construction.
• Easily adjust the dovetail interference to create loose or tight joints.
• Jig is free standing - no need to bolt it to a workbench.
• Integrated clamps allow precise clamping of the jig to your work piece.
• No assembly required.
• Accommodates boards of any width.
• Includes one 14 degree 1/2" Dovetail Router Bit.