General Tools E-Z Pocket Hole Jig Kit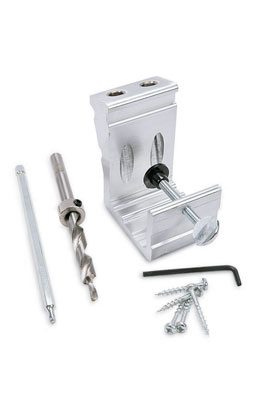 Before your woodworking customers embark on their next next project, be sure they grab one of General's E-Z Pocket Hole Jig Kits. The innovative design allows users to create three popular types of pocket hole joints with accuracy and relative ease.
Made of heavy duty aluminum, the Jig can be mounted to a bench for stationary use and also includes a clamping system for when portability is desired. A great choice for building cabinets, furniture or other high precision woodworking endeavors. Includes free DIY project plans!
For making professional style pocket hole joints with ease.
Makes Flush, Corner and Angle pocket hole joints.
Can be used a portable or bench mounted jig.
Kit Includes:
Pocket Hole Jig with Clamp
3/8" Step Drill Bit & Drill Stop with Hex Wrench
6" Steel Square Drive Bit
Square Drive Screws
Heavy duty aluminum body with hardened steel drill bushings.
Instructions and Free Project Plans included.