Milwaukee 8-piece screwdriver set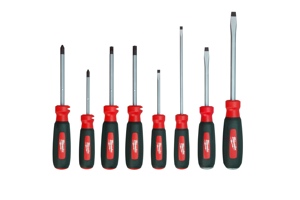 Milwaukee Electric Tool Corporation introduces the 8 Piece Screwdriver Set as part of its new line of hand tools. Similar to the 11 in 1 Screwdriver that launched in April 2010, the new set features patented ECX bits to perfectly fit the hybrid specialty screws users often encounter in electrical boxes, conduit couplers, outlets, and other common job site fixtures.
"Every feature in this set is a direct result of discovering common issues and complaints on the jobsite and delivering innovative solutions," says Tim Albrecht, Group Product Manager- Hand Tools for Milwaukee Electric Tool Corporation. "For example, we added a steel top to the slotted drivers in this set for additional durability and protection because we found that this tool often suffers the most jobsite abuse."
In addition, each screwdriver shaft is made of shock resistant steel for added durability and the bit type is clearly marked on the top of each handle for quick identification while in a tool belt. For further utility, an integrated wire stripper and wire bending hole allow the user to strip and/or bend up to 12 gauge wire before fastening to electrical boxes.
The addition of the new 8 Piece Screwdriver Set follows the April 2010 launch of Milwaukee's Hand Tool category. Dedicated to delivering advanced solutions to increase productivity, this category will continue to grow and offer innovative products. Backed by a limited lifetime warranty, the new tools confirm Milwaukee's commitment to best-in-class durability.