Kraft Tool Stainless Steel Putty & Drywall Knives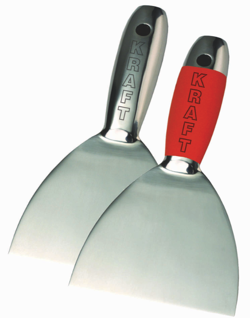 Kraft Tool offers a full line of stainless steel flexibly putty and drywall knives designed for the professional.
The feature non-rust stainless steel blade-and-handle one-piece construction for strength and longevity.
These tools come in 5 sizes and are ideal for scraping, painting and drywall applications.
The contoured handle is comfortable and easy to grip also available with a soft grip, which is a finisher's favorite.
Kraft Tool manufactures a full line of tools for paint, plaster and drywall professionals. For more information call 800-422-2448 / 913-422-4848.