Dec 2014 - Jan 2015 print edition of Contractor Supply magazine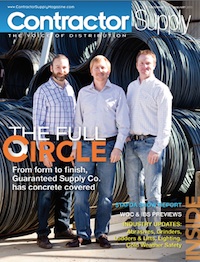 Cover Story: Guaranteed Supply — The Full Circle
From form to finish, Guaranteed Supply offers the best in construction materials.
STAFDA News: Dec 2014 - Jan 2015
STAFDA sponsors 2015 University of Industrial Distribution and 2015 Congressional Fly-In.
Show Report: STAFDA 2014 Laps the Field
4,500 attendees + 790 vendors = a winning combination.
Business Systems: Underutilized ERP Features
Epicor explores some valuable but oftern underused features of ERP systems.
GPS Systems: The Do's and Don't's of tracking employees with GPS systems.
Rik Gagnon: Outsource Your Problems
Five common mistakes that can be remedied by outsourcing.
Plus industry updates on Ladders & Lifts, Cold Weather Safety, Abrasive Discs & Blades, Job Site lighting, Grinders & Floor Prep Equipment and much more!